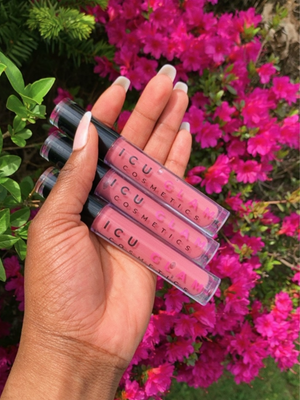 Modern Mauva Glam Gloss
Juicy lips will always be in! Rock your juiciest lips with our new ultra glossy and nourishing lip gloss. Our formula is non-sticky yet boasts that sexy, shiny goodness that we all love. Made with the purest and highest grade raw ingredients. Always mixed, developed and poured with love in NYC. These glosses are semi-opaque, with the ability for more opaque color payoff when layered. All of our glosses feature our signature light Vanilla Peach scent.
Shade Inspo: Modern Mauva was created for the chic babe on the go. She balances her busy life with poise and grace all while still keeping up with the glam. This color was created to be our most easy gloss, just apply and go (no mirror or liner needed)! The most sheer color pay-off of the Glam Gloss collection. Showcasing a mauve/pink hue meant to mimic the natural pink tone of our lips. Color development was inspired by the dainty but classic tones of Sweet Pea and Cherry Blossom.
Glam Tip: Line your lips with your fave lip liner and pair your Glam Gloss with our Glam Balm for an ultra juicy, sheer finish.
Featured ingredients: Vitamin E, Grapeseed ​Oil, Vanilla and Peach Essence
Size: 7mL